Shopping overload
♥ Thursday, January 31, 2008
9:05 PM
I was reading
CLEO
few days ago. Love the mag.
I was reading
Seventeen
just now. I was like, "Huh?" when there were lotsa stuff like, flirting with that cute guy along the corridor, classes, bells ringing for lunch...
I had outgrown Seventeen.
Reading
FemaLe
now. Too chim for me.
Few more days till CNY! I haven't really shop for anything. =S
The white plastic spoon that I leave in the office's pantry is in danger. =( This old guy has been using
MY SPOON
! Goodness. Of all the teaspoons and stirrers available, he falls in love with
MINE
! It's white, those plastic cutesy kind. So he thinks it matches his dark green cup really well. Which I cant agree in any way.
Bleh
. Just the thought of having to share the spoon with him everyday.... I hid the spoon at my desk now.
Yah, I know, we share cutleries with strangers when we eat outside. But this feeling is just different you know. Geex.
Anyways, I went shopping with Mr Liu ytd. He bought me the

Swatch watch

for

Valentine's Day

. It's really pretty and sweet!! Will definitely post pics soon! =) *

hearts

* Thanks, dear!
He says I shop like a person who jus got a fat bonus! Well, I'm starting to love my company more. We are getting up to a
max
of 5.4 months of bonus, i think. Take note,
that's the max
! I'd be happy to have half of that. Then make it pro-rated and minus CPF, guess there's not much left.
Whatever.
Sometimes I really really do wanna save. I make up all kinds of savings plan in my mind, being really hyper about it at that point of time.
Then a while later, I go shopping and splurge, then I wonder where my money go to.
Argh.
I'm so fickle-minded.
I'm such a blur sotong.
I'm such a complain queen.
I'm such a spendthrift.
But you love me for who I am, dont you?
Tee hee.
You're the best!
& they live happily ever after...
♥ ♥ ♥ ♥ ♥ ♥ ♥ ♥ ♥ ♥ ♥ ♥ ♥ ♥ ♥ ♥ ♥ ♥ ♥ ♥ ♥ ♥ ♥ ♥ ♥ ♥ ♥ ♥ ♥ ♥ ♥ ♥ ♥ ♥ ♥ ♥ ♥ ♥ ♥ ♥ ♥
Phuket Trip Day 4
♥ Saturday, January 26, 2008
4:44 PM
Last and final day! How I wished time won't pass so fast.
As usual, breakfast. Then back to resort to pack our stuff. I wanted some more sun tanning, but no time, sadly. At 12 noon, we check out, but leaving our luggages in their care, while we set off to Phuket town.
First, we shopped at Robinson's.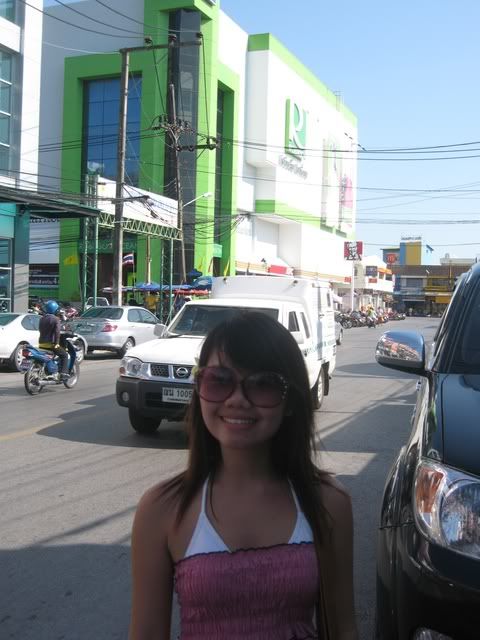 MAN U retail store!!!!
Baby bought 2 shirts from there, and hp straps as well. =)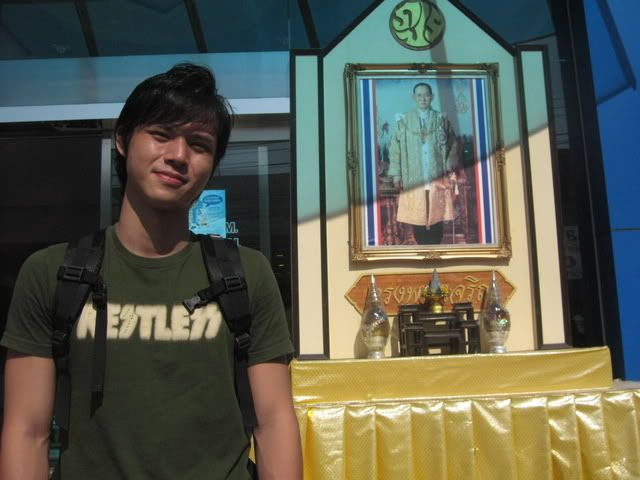 Baby with the King of Thailand
Haha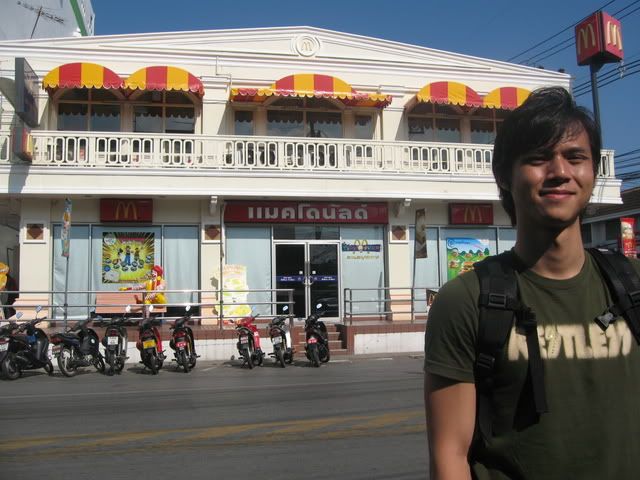 Lunch at Mac!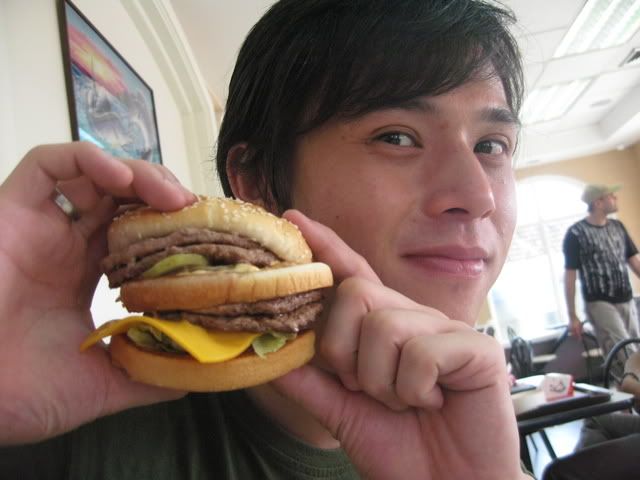 This was what drew him in - Double double big mac!!!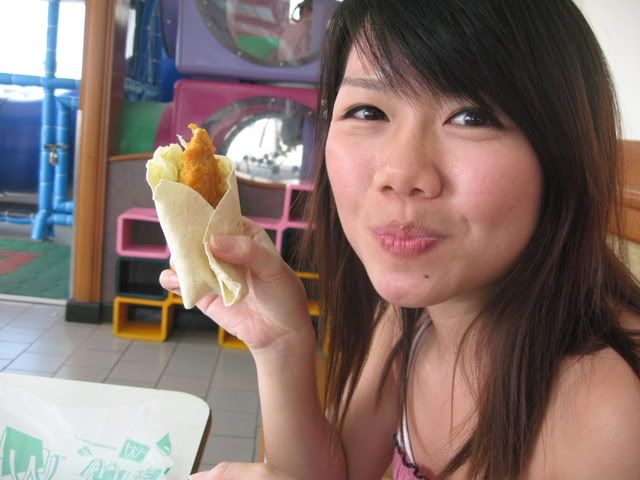 I just had a small chicken wrap. =)
After that, we went to Mister Donuts! I was exhilated seeing all the nice sweet donuts!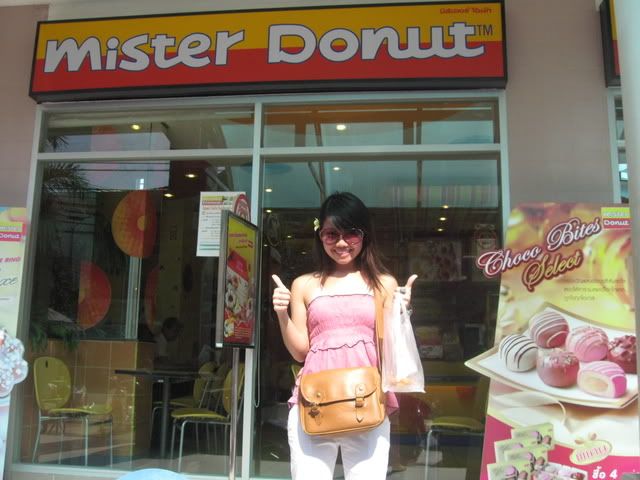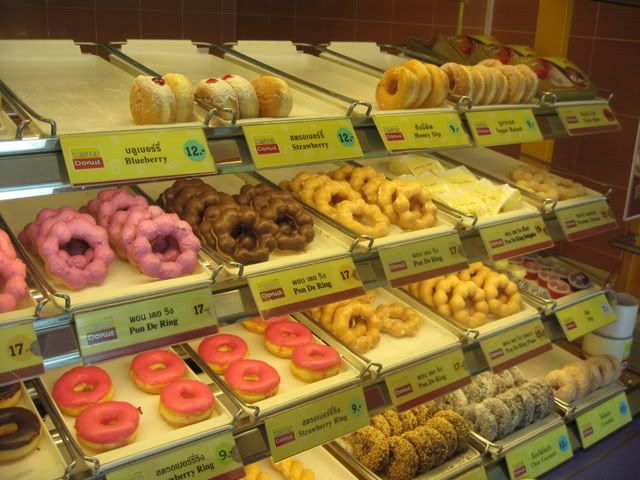 So we bought some back to Singapore!
Then we reached this place called Expo. Shopping heaven! Much nicer stuff than those in Patong. This is the place where I bought most of my stuff.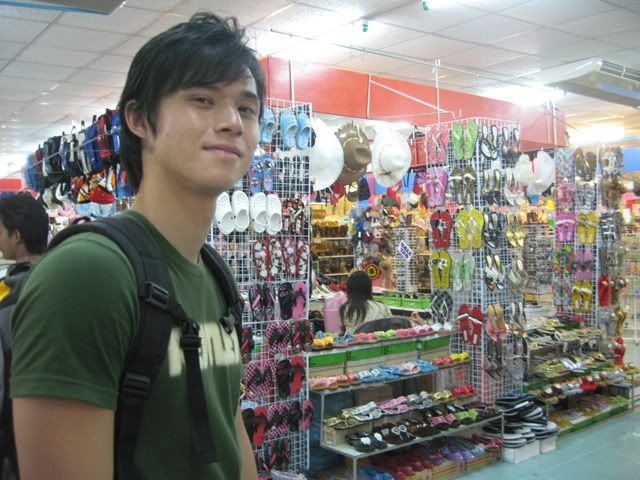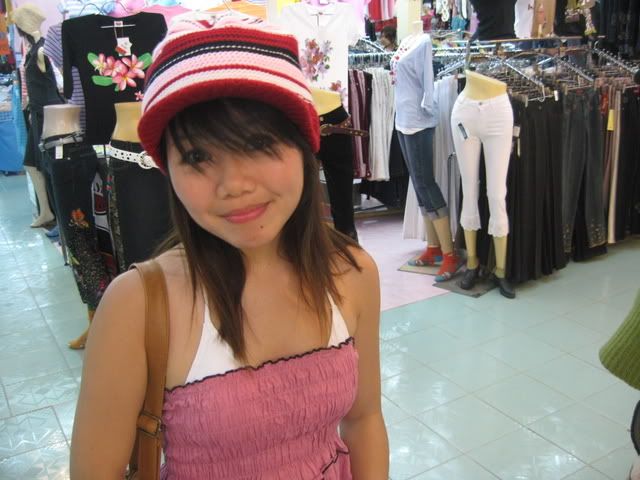 Nice hat, but I didnt buy. =(
And it was finally time to get back to Patong. We took the tuk tuk. Hee.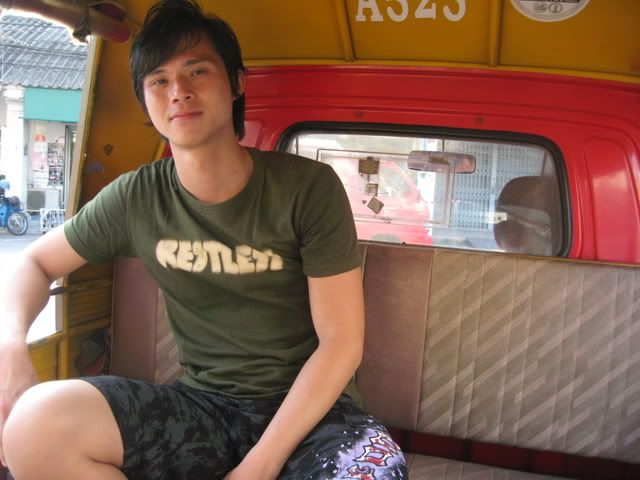 We sat on a limo back to the airport. An arranged service, which we later realised cost us a bomb. But good service. Did I mention Thais are really friendly people? =)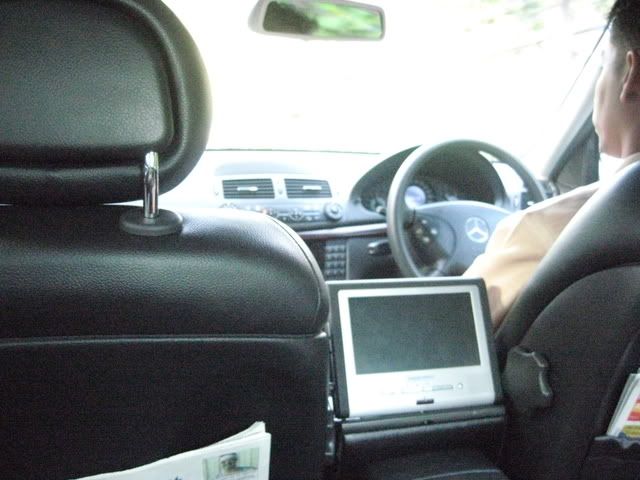 A player in the limo which I didnt know how to operate.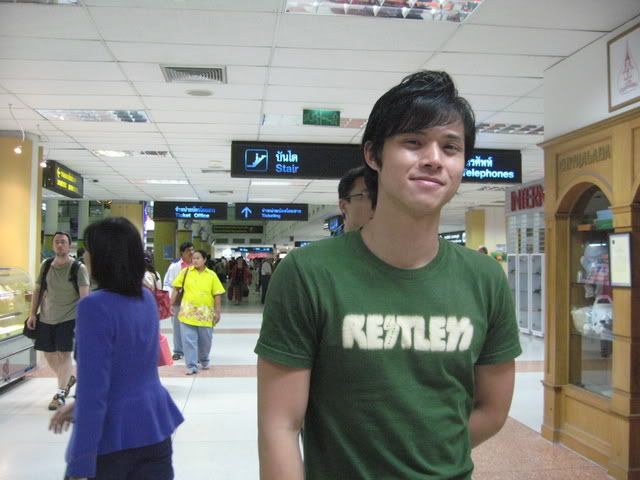 At the airport
Dinner at BK before checking in. There was a LONG queue, which caused our flight to be slightly delayed.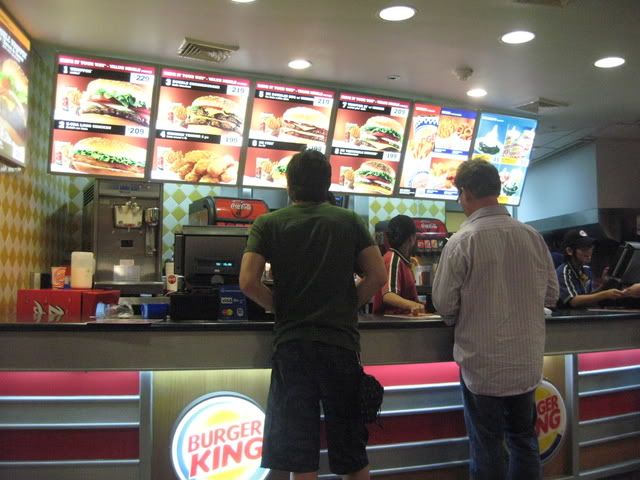 Baby buying food at BK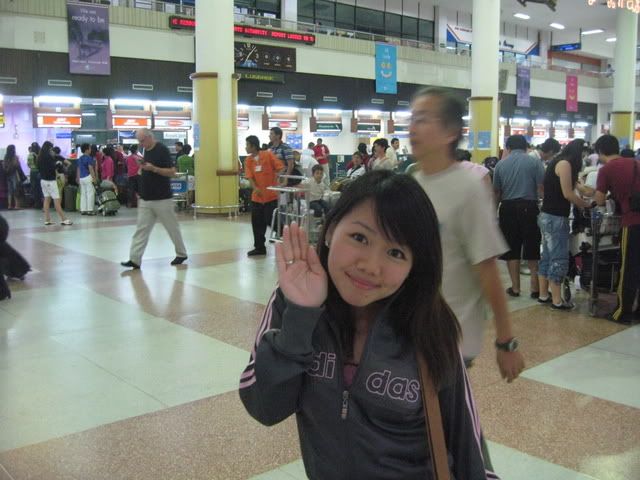 881, Phuket!
No point being awake on the plane when it's all dark and I cant view the clouds, so I slept all the way...
And back to Singapore! He bought Martel for his colleague, I bought DOM for my father and that was it. To the taxi queue.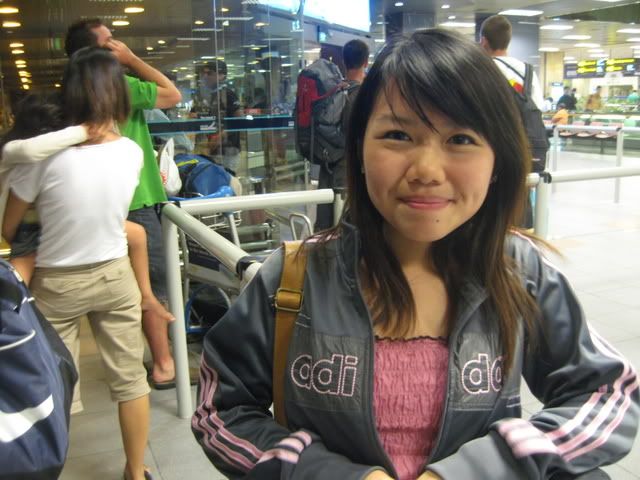 I miss Singapore. But when I reached Woodlands, the fare reached to a bloody 30 bucks and I feel like complaining again. Haha.
4 days passed so quickly. I wonder when will be the next time I go on holidays with baby again. Soon, I hope! I think everyone should go on holidays at last once ina quarter year. Haha.
Thank you my dear for the wonderful trip!
Once again, I'm blogging using his laptop while he's catching some beauty sleep after his night's work. I just grow more and more fond of him as each day passes!
Muackz!!!
& they live happily ever after...
♥ ♥ ♥ ♥ ♥ ♥ ♥ ♥ ♥ ♥ ♥ ♥ ♥ ♥ ♥ ♥ ♥ ♥ ♥ ♥ ♥ ♥ ♥ ♥ ♥ ♥ ♥ ♥ ♥ ♥ ♥ ♥ ♥ ♥ ♥ ♥ ♥ ♥ ♥ ♥ ♥
Phuket Trip Day 3
♥
4:13 PM
Day 3 is Phi Phi Island Day, also known as Pee Pee Island (dont laugh, it's true!)
After an early breakfast,,,
We had to be ready by 0715 for a long ride to the harbour, where we boarded a ship. There were several others. So many people were going to Phi Phi!
We had to put lotsa sunblock to protect our face and body already. No more suntan lotion.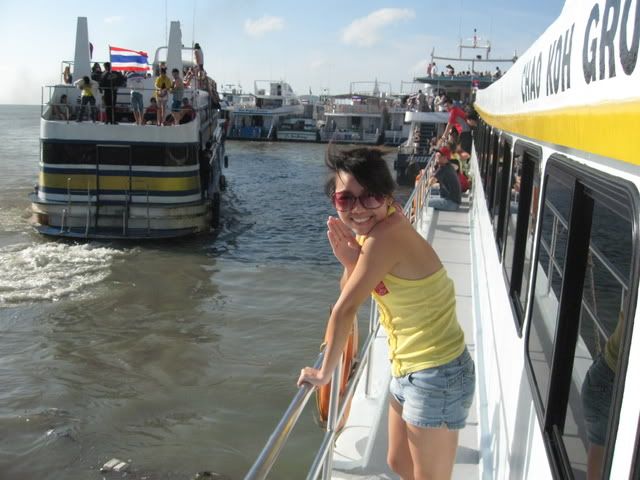 Bye!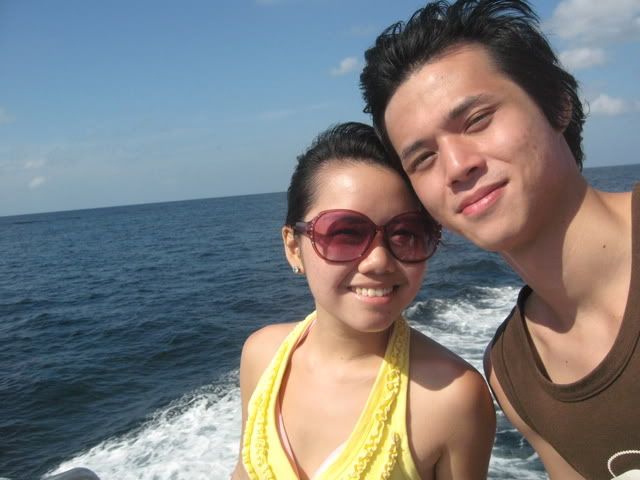 The view was spectacular! The sky is so blue, the water is so clear! A 2 hour boat ride to Phi Phi!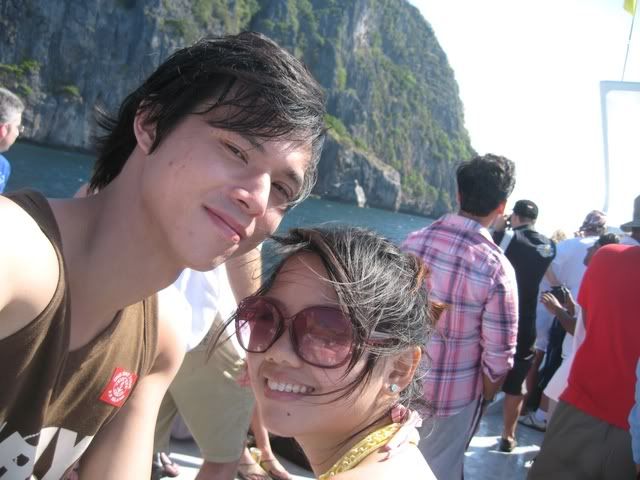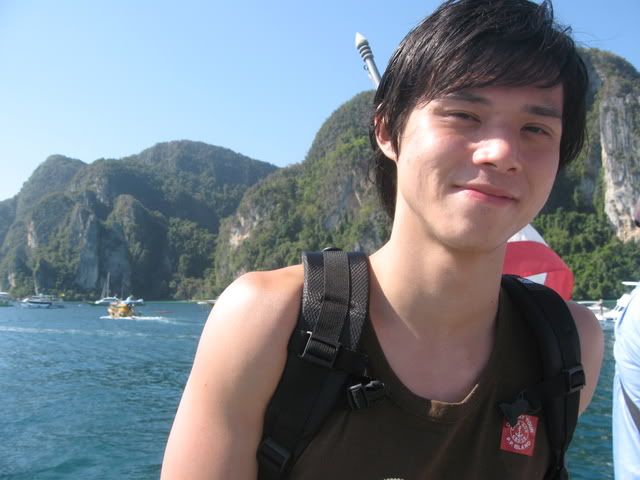 Our first stop was to Monkey Bay, where we went snorkeling. Wooh! My first time!
The place is breathtaking, isnt it?
The shipped stopped a distance from the beach. We took turns to jumped into the sea. Baby didnt want a lifejacket. I needed one, cos I didnt know how to swim!
Even with the lifejacket, I thought I was going to die, y'know. While swimming halfway, I got so breathless, I jus wanted to stop and let somebody carry me to the beach. But everyone was so far away, nobody to help me!
I guessed I panicked. Grr. It was my first time being in a water so deep anyway. Poor baby told me that I was grabbing him, pulling him under, and he's got no lifejacket. And the reason nobody came to save me was cos I was wearing one, so I definitely want gonna drown.
But okay. After awhile, I calmed down and slowly swam to the beach. Views of corals and fishes under the sea was BEAUTIFUL!!! There were so many fishes! The water is so clear that you can see people's legs. Haha.
That's baby!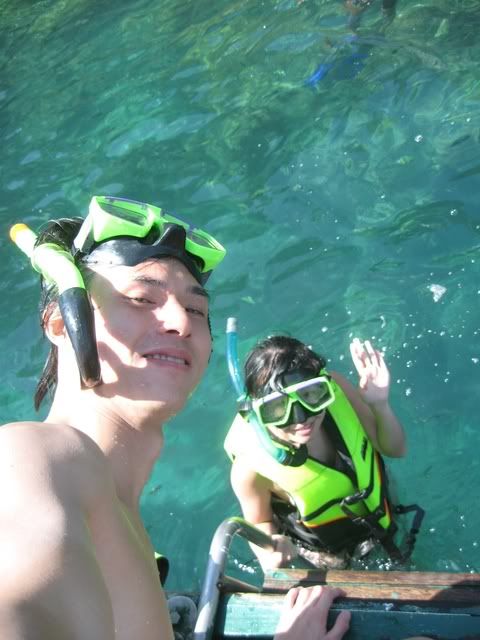 And me in the water!
We went snorkeling for half to one hour. When we went back to the ship, they provided us with fruits! Woah! It was like heaven! Back from a refreashing swim, then standing at the ship enjoying the sea, feeling the wind and sun, and with fruits to go along!
We were brought around many islands, for eg Maya Bay, where Leonardo Dicarpio went etc...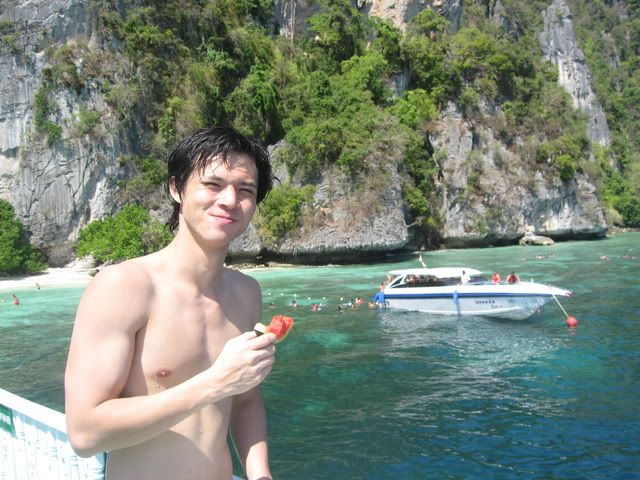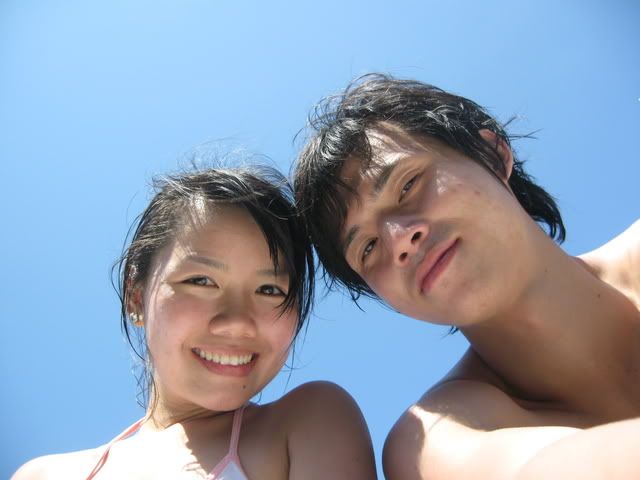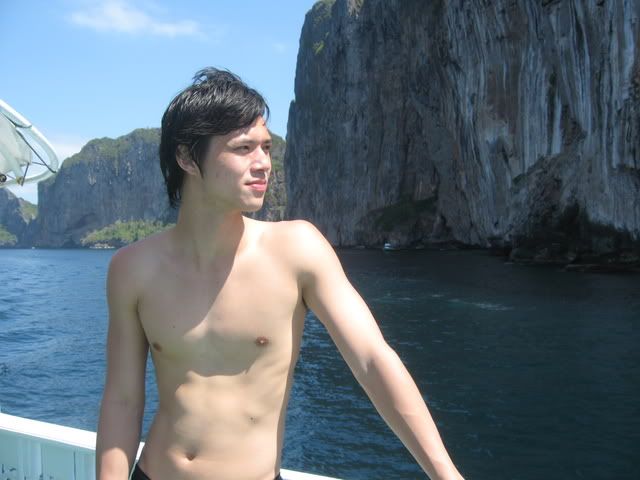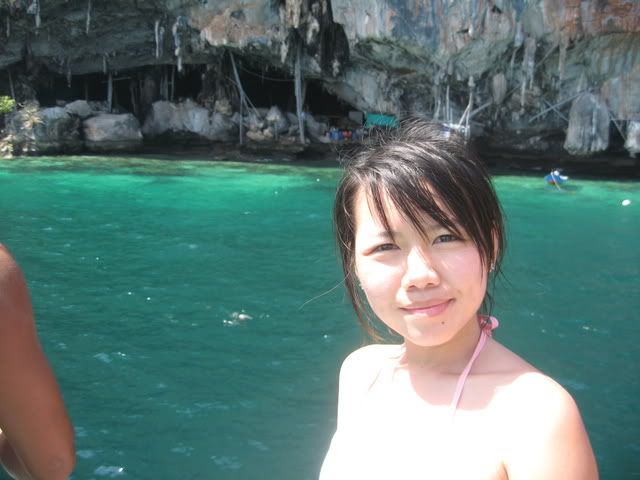 And finally, we reached Phi Phi Island for lunch!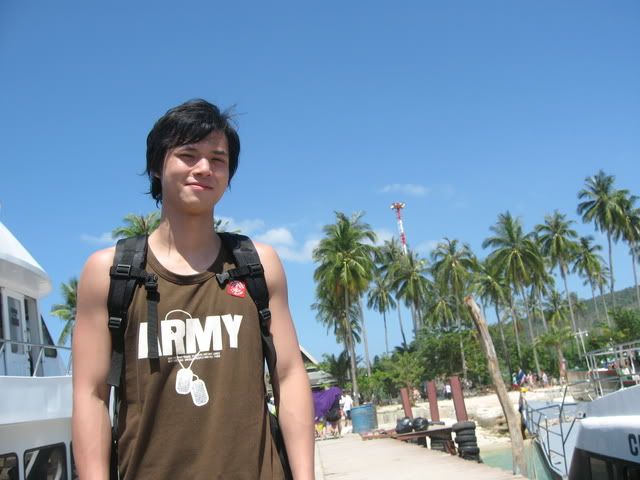 Eat all you can. Yah, but we didnt eat much. We were more into going around the island!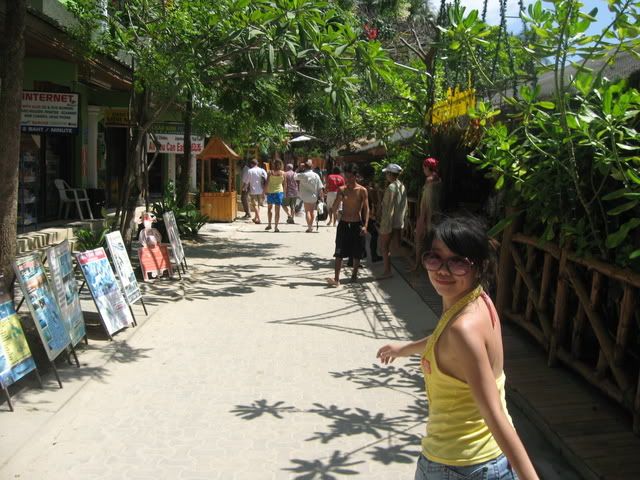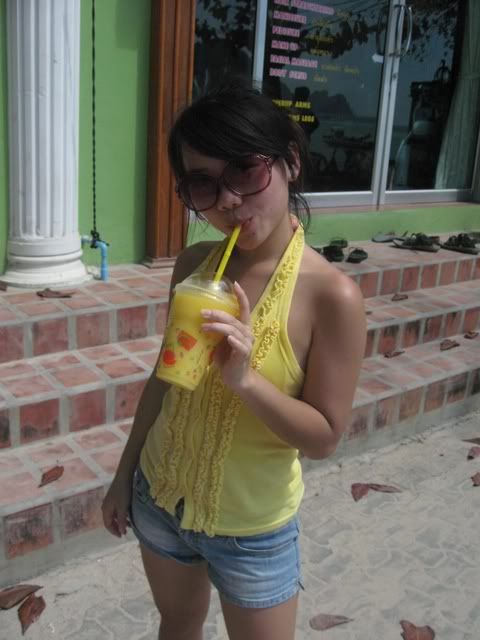 Mango shake!!! Ahhh.. Heaven! It's like bubble tea in Singapore. No pearls. But real fruits with blended ice!!!
Ice cream!!!!!!!!!!!!!!!!
Low tide beach
At 2.30pm, we board the ship and set ahead for another 2 hours back to Phuket. We slept all the way back.
After a bath and some slacking, dinner!!! Meals are always much to look forward. You get such good food for a cheap price!
We headed for another seafood restaurant this time.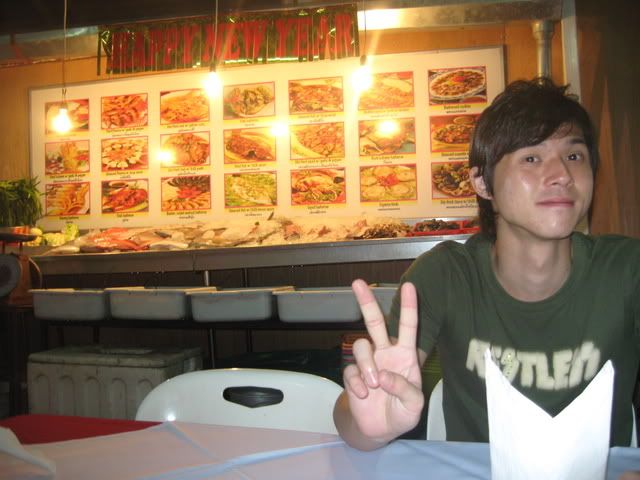 We get to choose our own fish to have it steamed! Sp fresh and nice! Spring rolls were pretty common in Phuket. Tom yum goong - you never get sick of it!! Fried morning glory, baby's fave veggies. And fried squid. Since it was gonna be our last proper dinner at Patong, might as well have a good one. Hee.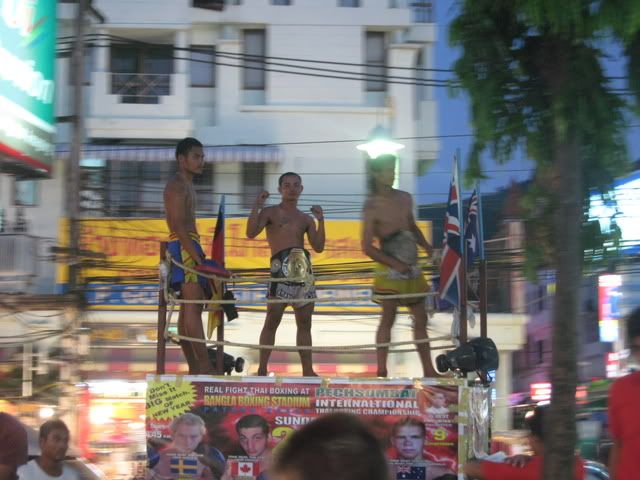 This boxer posed for me when he saw me taking a pic of them! =)
After dinner, we tried the oil massage near our resort. Soothing...... Relaxing........... And cheap! $10+++ after discount!
Then back at hotel, movies.... zzzzzzzzzzz
& they live happily ever after...
♥ ♥ ♥ ♥ ♥ ♥ ♥ ♥ ♥ ♥ ♥ ♥ ♥ ♥ ♥ ♥ ♥ ♥ ♥ ♥ ♥ ♥ ♥ ♥ ♥ ♥ ♥ ♥ ♥ ♥ ♥ ♥ ♥ ♥ ♥ ♥ ♥ ♥ ♥ ♥ ♥
Phuket Trip Day 2
♥
2:11 PM
Hello again! On Day 2 at Phuket, we slept till enough before waking up.
First thing first, buffet breakfast! Hm, the breakfast here definitely cannot be compared to hotels... But it was alright. Shan't say much, if not baby will say I'm such a complain queen..... hur.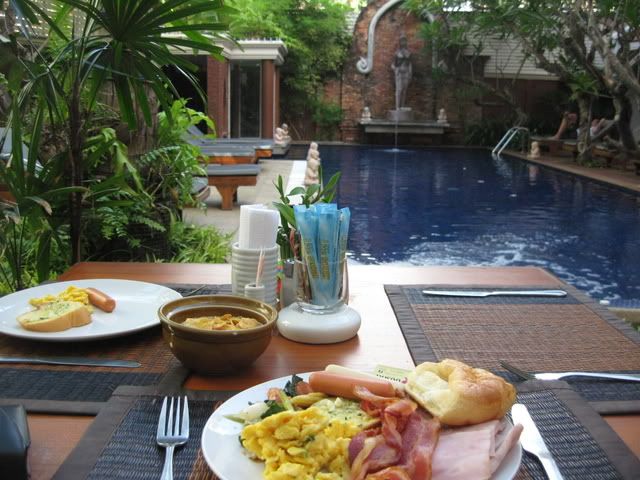 As usual, his breakfast looked delicious.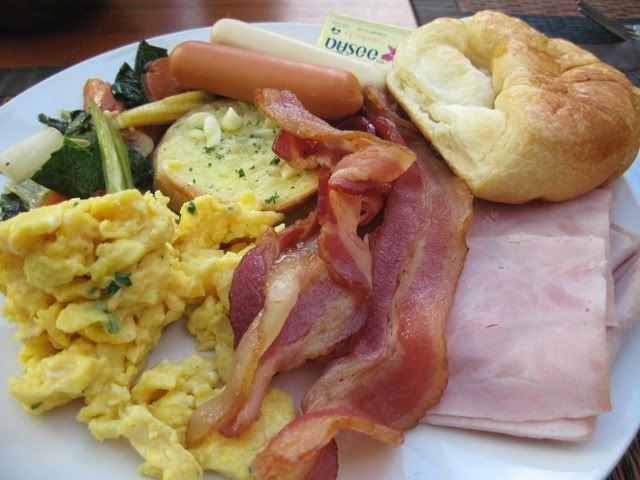 And mine always look like urgh.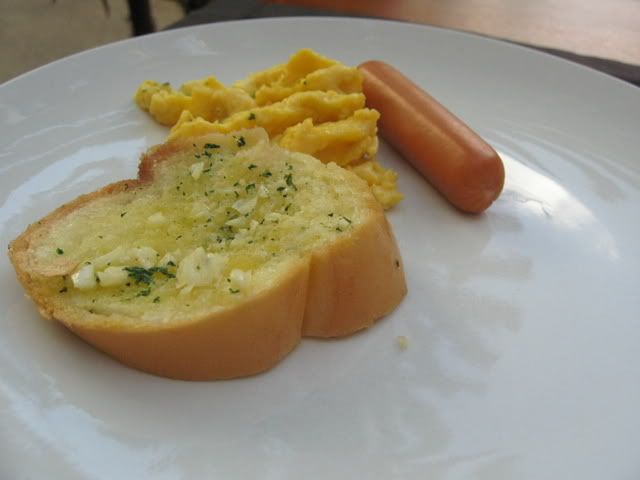 They have such cute chilli and ketchup bottles!
And they serve very juicy watermelons and pineapples after every meal for free (at restaurants).
After breakfast, we couldn't resist the sun anymore. It was a day at the beach!!!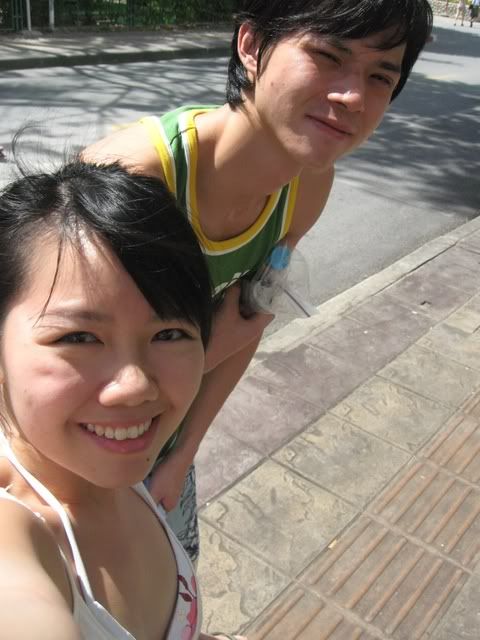 On our way there...
Beautiful sun. We went to the Patong Beach. They have rows and rows of umbrella there, and you have to pay to sit on those sun tanning chairs.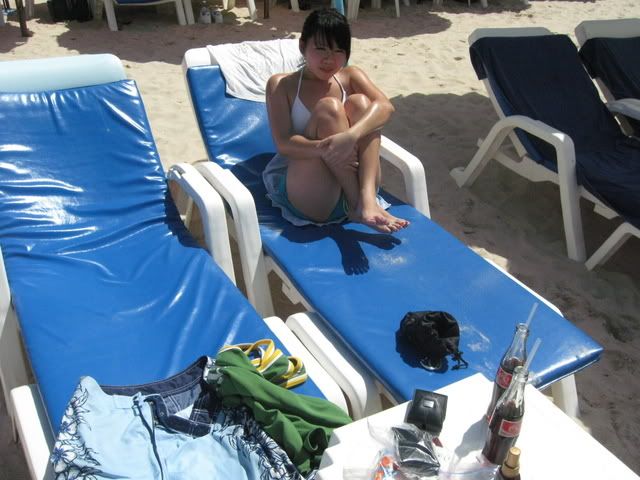 HOT!!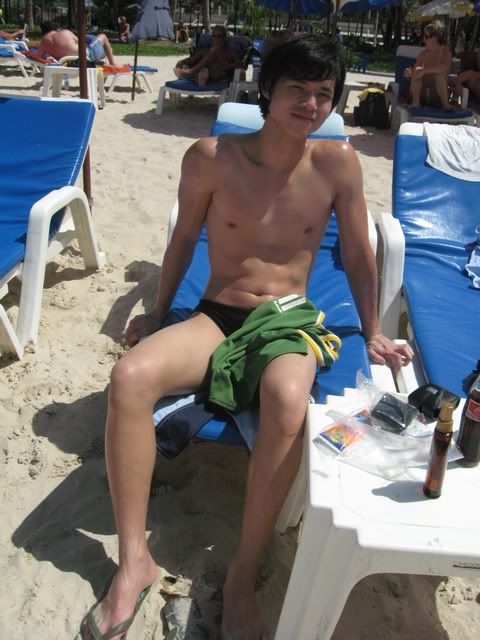 It was so fun! After BBQ-ing ourselves under the sun with the help of tons on suntanning lotion slapped onto every possible exposed surface of our body, it was time to get wet.
So we went jet-skiing!!!! We got to move at top speed, going far out into the sea, screaming and all. And baby loves to halt suddenly to give me thrills and screams. Hee. That was when we got our face burned as well. But it was really fun! =)
After that, I couldnt bear to have my vulnerable face exposed to the sun anymore...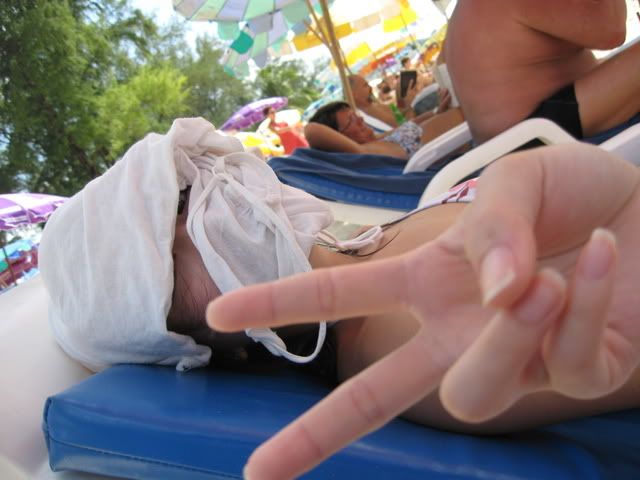 We had lunch at about 3=pm at the beach. Delicious sandwiches!!!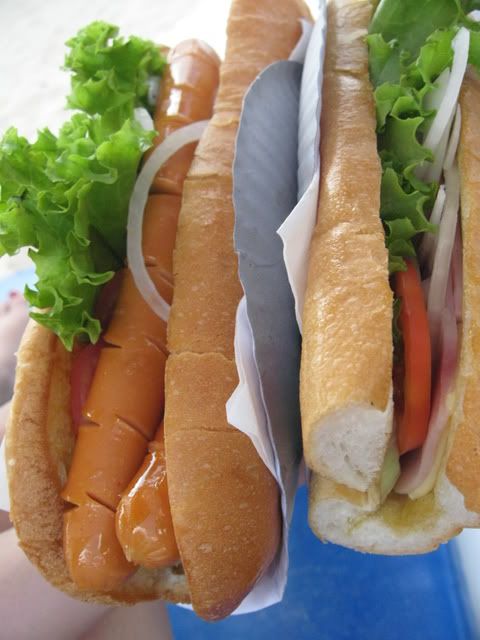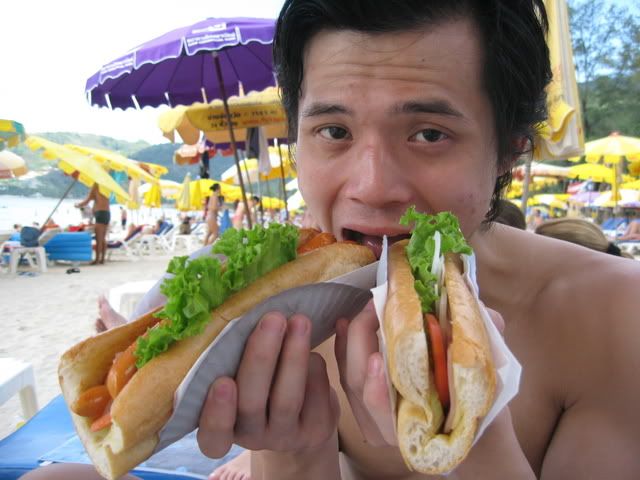 There was a couple of ang moh kids running around naked and they're so cute.... I just had to take a picture of them!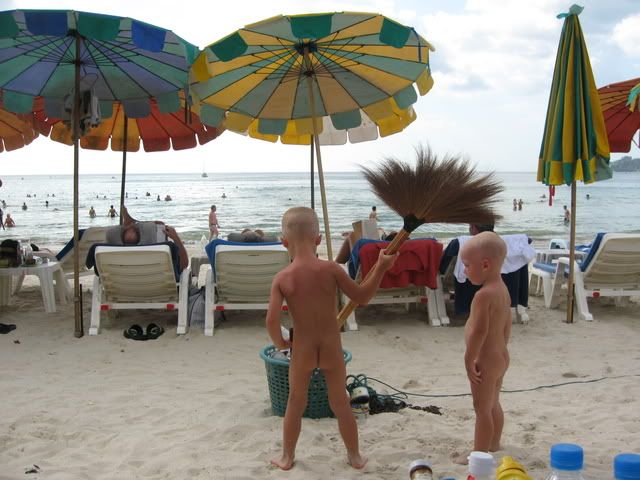 After being at the beach for hours, we dragged ourselves back to the resort. Tired, weary, but sun tanned! After bathing, time for dinner!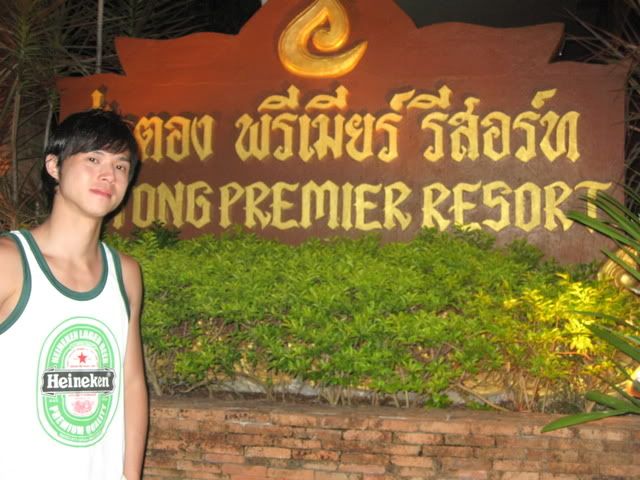 Random pic
The famous tuk tuk
There was a whole stretch of seafood restaurants along the road, snatching and grabbing customers whenerver anyone walked passed. We couldn't even get pass the first stall before we were pyschoed in. Haha.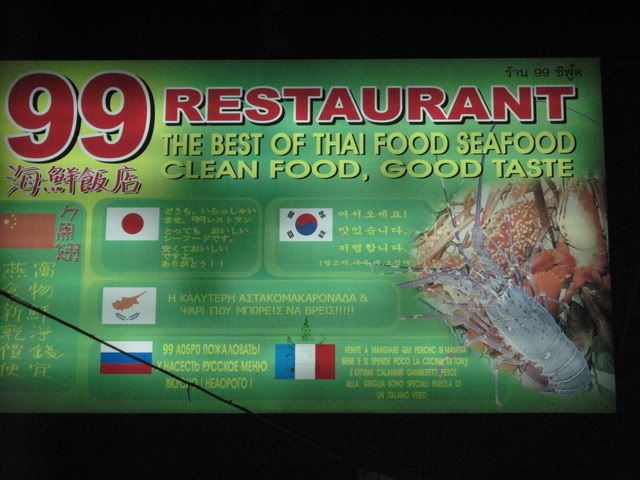 Looking dazed after a long day. Have a refreshing watermelon shake!
Our dinner - fried shrimps, tom yum goong, curry chicken and fried morning glory.
I realised you shouldn't try curry chicken in Thailand. Bad choice! Tom yum goong, both thumbs up! Fried morning glory is a neat change from the chilli kang kong is Singapore. Shrimps - not bad.
After our feast, we went shopping, experiencing the nightlife of Patong. Indeed interesting.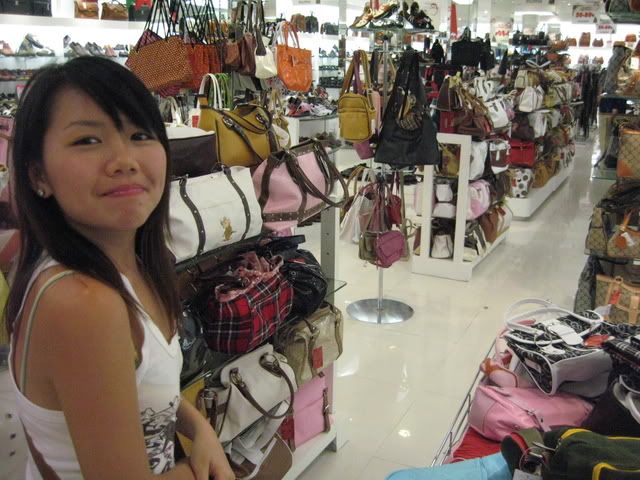 Shoes! Bags! Cheap!
A big dog sleeping right infront of a minimart. Didnt the owners knows some people might not go in because of that??? Nope, I'm not scared....
Loads and loads of night clubs, pubs!!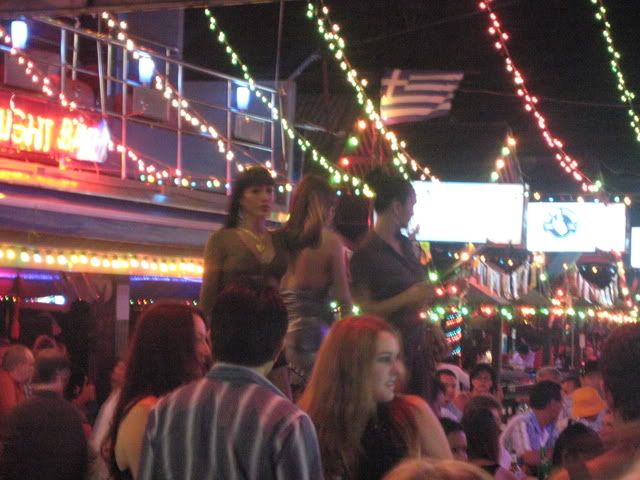 Trans get to dance at the entrance of clubc where everyone can see.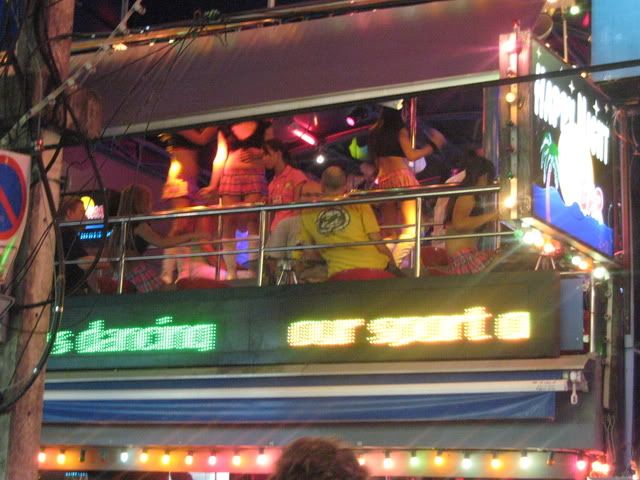 Real gals dance at the second level, a less obvious location.
We were so lucky to see fireworks on our way back! Though it was nothing splendid, but still!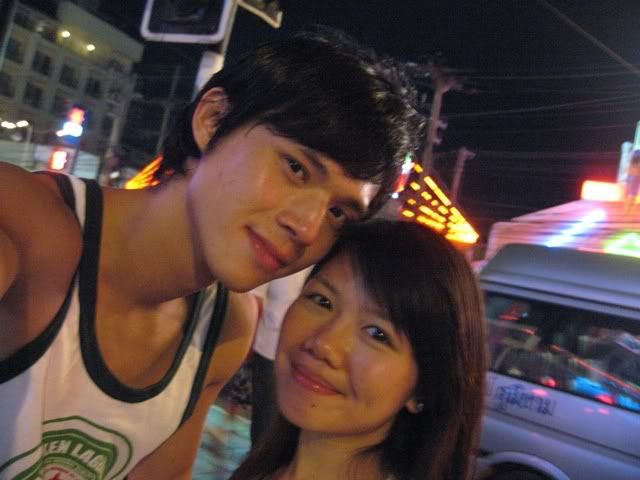 Back to the resort, REST! The hotel provides cable tv (Star Movies!!!) so I get to watch movies whenever I want. How cool is that? There was Narnia, followed by Independence Day that night...
Only sad thing was I had diarrhoea. But after running twice to the loo, my stomach was right again.
What a sweet day with baby... =)
& they live happily ever after...
♥ ♥ ♥ ♥ ♥ ♥ ♥ ♥ ♥ ♥ ♥ ♥ ♥ ♥ ♥ ♥ ♥ ♥ ♥ ♥ ♥ ♥ ♥ ♥ ♥ ♥ ♥ ♥ ♥ ♥ ♥ ♥ ♥ ♥ ♥ ♥ ♥ ♥ ♥ ♥ ♥